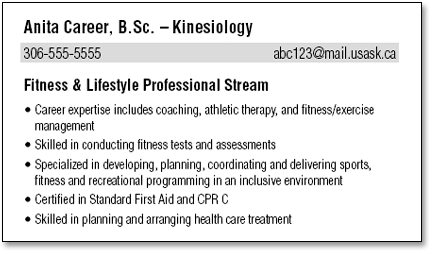 A calling or networking card is similar to a business card but provides contacts with your name, telephone number and your area of interest.
You may include:
your graduation date and name of the university if you are graduating within the year
your degree and major if you are a recent graduate
your skills, preferred working conditions and qualities as a worker
Your LinkedIn address
Your card can vary in layout, fonts, colour and simple graphics—depending on the field or industry. Calling cards can be attached to resumes and taken to professional or community events such as career fairs and company information sessions.
Leave it with a potential employer. Offer your card at the beginning or the end of a conversation. A calling card can show initiative, interest and motivation.
Attach the card to an application form or cover letter and resume in an upper corner—this may set you apart from other candidates.
Provide each of your contacts with your calling card to remind them that you are interested—it is also a reminder to them to keep watch for job openings in your field.