Nutrition Facts Labels
Nutrition Facts Labels help you:
Compare food products
Find nutritional values of foods
Manage special diets 
Increase or decrease your intake of specific nutrients
Choose foods with less:

Total Fat, saturated fat and trans fat
Sodium
Cholesterol

Choose foods with more:

Fibre
Vitamin A, C and D
Calcium
Iron
What's on a label?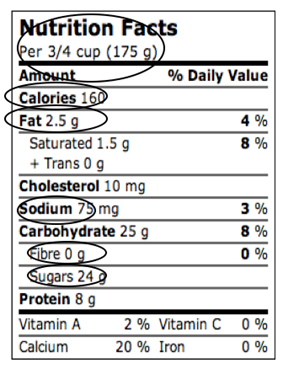 1. Serving Size
Foods differ in serving size. If the serving sizes are similar, you can compare the two foods. The amount (g or %DV) of a nutrient on the label is what is in one serving size. Note the serving size and compare it to what you normally eat.
2. Calorie Content
Calories are the nutritional measure of energy.
3. Nutrient Content
May be indicated in grams (g), milligrams (mg) or Percent Daily Value (%DV). %DV is based off of the amount of nutrients that an "average" person may need in a day. The %DV can be used to compare the nutrient content of different foods. 
* 5% DV or less is a little
*15% DV or more is a lot
Fat: Choose foods with lower fat content.

Saturated fats: Choose foods with lower amounts.
Trans: Aim for none.

Sodium: Choose low  - aim to stay below 2300mg/day.
Fibre: Choose high. Fibre promotes digestive health and can help lower cholesterol -Aim for about 30g/day.
Sugar: this reflects both natural and added sugar. Added sugars will be listed on the ingredients list with names like: sugar, syrup, cane juice, turbinado sugar, agave syrup, molasses.
Vitamins and minerals: Some important ones to look for are: Vitamin D, Calcium and Iron.
4.  Ingredient List
Lists ingredients in order of weight; the first ingredient weighs the most.
Making Healthier Choices
Use the following criteria (per serving) to help you make healthier choices. 
Fruit and Vegetables (frozen, canned, packaged):
First Ingredient:  Vegetable or fruit
Fat:  5 g or less;
Sugar:  Not first ingredient
Fibre:  2g or more per serving
Sodium:  less than 480 mg 
Grain Products: (baked, pasta, cereal)
First Ingredient:  Whole grain
Fat: 10g or less.  No trans fat
Sodium: Less than 480 mg 
Sugar: 12g or less 
Fibre: 2g or more 
Milk and Alternatives: (cheese, soy beverages)
First Ingredient:  Milk, Soy, Water
Fat:  10 g or less; 0.5 trans fat
Sugar: 25 g or less
Calcium:at least 10% DV
Meat and Alternatives: (lentils, nuts, eggs)
First Ingredient:  meat, or alternative ( tofu, soy, seeds)
Fat:  15 g total; 5 g saturage; 0.5 g trans
Sodium:  less than 480 mg
Protein:  5 g or greater
High in Iron
Mixed dishes: ( packaged meals, soups, snacks)
AND 

Four

 of the following:

Fat: 3g (5% DV) or less
Saturated fat: 2 g or less
Sodium: 960 mg (40% DV) or less
Fibre: 2 g or greater

Sugars: Should not be listed as 1st or 2nd  ingredient.
At least One of vitamin A, vitamin C, calcium OR iron: 5% DV or greater
Healthy Eating Tips
Foods to choose more often:
Vegetables and Fruit
Whole grain products
Lower fat milk and alternatives
Lean cuts or types of meat
Sources of fibre, protein, carbohydrates, vitamins and minerals
Lower in added fat, salt and sugar
Examples of these foods are:
Fresh/frozen fruit with no added sugar
Brown or wild rice
Skim or 1% milk
Cooked dried beans peas and lentils
Foods to choose sometimes:
Processed foods
Lower in fibre
Higher in fat
Higher in sugar
Higher in salt
Examples of these foods are:
Dried fruit
Pancakes and waffles
Chocolate milk
Breaded fish, meat or chicken
Canned soup or stew
More healthy eating tips from "Eating Well with Canada's Food Guide"
Eat at least one dark green and one orange vegetable each day
Make at least half of your grain products whole grain each day
Have skim milk or lower fat dairy and dairy alternatives
Choose meat alternatives often
Eat at least 2 servings of fish per week
Resources
 For more information on reading Nutrition Facts Labels go to: