2021 Winter Term Update
During the 2021 Winter Term, only students who are taking in-person classes, are living in Residence or have opted in to receive a U-Pass, are required to have a student card.
What is it for?
Your Student ID card is used to:
take out books at the library
track your meal plan balance
ride on public transit with your U-Pass - you'll need to activate your card every term
get into your residence room and building
get discounts from business' that offer deals to students
If you need to prove that you're a student to another person or organization (like a bank to get a student account), you can print a Confirmation of Enrolment from PAWS. It will show that you are registered in classes as a full or part time student.
How to get it
As a registered student, your first card is free. Additional replacement cards/lost cards will be issued at a cost of $20. If the information on the ID card is worn or if the card is cracked, the fee will be waived.
Online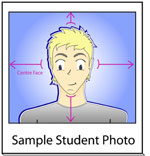 Online orders for new campus ID cards can take up to a week to complete and will be available to pick up at the Shop USask Preston Crossing location.
What you need to order your ID card online:
Be registered for in-person classes a minimum of two days prior to requesting a student ID card.
The photo must be a close-up of your head and shoulders shot on a plain light background with a direct view of your face so that your face covers approximately 65% to 75% of the photo. See a sample on the right.
The photo must be in a .jpg file format and should be less than 2MB
Provide your First name, Last name, address along with either your NSID or Student number along with your photo
We also ask that headwear be removed unless it is worn for medical or religious reasons
You'll need to present a government-issued photo ID when you pick up your card.
Off-campus site
2020 Fall Term Update
You only need a student ID card if you are studying in-person at an off-campus site.
If you attend an off-campus site, you can arrange for a card through your local USask advisor. You'll be able to order your card online and pick it up at your campus.
U-Pass
The U-Pass is a Saskatoon Transit bus pass connected to your student ID card. To find out bus schedules, what buses to take and where the bus stops are, use the Transit app or visit saskatoontransit.ca.
Activate or apply to opt-out
Undergraduate students should visit the USSU U-Pass page and graduate students should visit the GSA U-Pass page for more information on how to activate their U-Pass or to apply to opt-out. 
To use your U-Pass
Place your Student ID Card on the card reader when you enter the bus.
For more information
For more information, please email contactus@ussu.ca (USSU U-Pass) or email gsa.admn@usask.ca (GSA U-Pass).