What is it for?
Your Student ID card is used to:
If you need to prove that you're a student to another person or organization (like a bank to get a student account), you can print a Confirmation of Enrolment from PAWS. It will show that you are registered in classes as a full or part time student.
How to get it
As a registered student, your first card is free. Additional replacement cards/lost cards will be issued at a cost of $20. If the information on the ID card is worn or if the card is cracked, the fee will be waived.
Online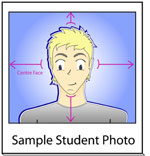 Online orders for new campus ID cards can take up to a week to complete and will be available to pick up at the Shop USask Bookstore at the Saskatoon campus.
What you need to order your ID card online:
Be registered for in-person classes a minimum of two days prior to requesting a student ID card.
The photo must be a close-up of your head and shoulders shot on a plain light background with a direct view of your face so that your face covers approximately 65% to 75% of the photo. See a sample on the right.
The photo must be in a .jpg file format

photos can be up to 5MB

must be larger than 512x512 pixels

must be larger than 100KB

We also ask that headwear be removed unless it is worn for medical or religious reasons
You'll need to present a government-issued photo ID when you pick up your card.
Off-campus sites
If you attend an off-campus site, you can arrange for a card through your local USask advisor. You'll be able to order your card online and pick it up at your campus.