Laptop Recommendations
| Preferred Platforms | Windows-based PC | Apple |
| --- | --- | --- |
| Operating System | Windows 10 | macOS X |
| Web Browser | Firefox or Google Chrome | Firefox or Google Chrome |
| Processor | Intel Core i5 based model or equivalent (AMD Ryzen 5) or greater | Intel Core i5 based model or equivalent |
| RAM/Memory | 8 GB | 8 GB |
| Storage | 256 GB SSD or greater with 40 GB of available space | 256 GB SSD or greater with 40 GB of available space |
| Screen Resolution | 1024 x 768 or greater | 1024 x 768 or greater |
| Connectivity | Wireless 802.11AC or Ethernet | Wireless 802.11AC or Ethernet |
| Webcam | HD – Built into Device | HD – Built into Device |
Please refer to the information below for more detailed information.
Hardware
Even though some Chromebooks, Android, iOS and Microsoft Mobile devices can be used for many web-hosted applications and many have apps that work well for accessing various university network-accessible services a computer(laptop/desktop) that meets or exceeds the following minimum requirements will give students the best overall learning experience.
Processor
Minimum Requirement: Intel i3 or equivalent
Preferred: Intel i5

or equivalent (AMD Ryzen 5) or greater

An Intel Core i3 will provide adequate performance for basic tasks
An Intel Core i5 will provide good performance for most tasks
An Intel Core i7 will provide great performance for the most demanding of tasks
Memory
Minimum Requirement: 4 GB
Preferred: 8GB
4GB of RAM is recommended as a minimum configuration for the typical productivity user.  You may encounter challenges Multi-tasking and working with multiple programs open at the same time
8GB of RAM is the right amount for the majority of users, providing enough RAM for virtually all productivity tasks
If you have plans to run demanding applications like Adobe Creative applications, CAD software, or compiling programs, we recommend that you run at least 16 GB of RAM
Storage
Minimum Requirement: 256 GB
Preferred: 1TB
Solid State Drives (SSD) are recommended, as they are faster and more reliable than traditional Hard disk drives (HDD), but a hard disk drive will work for most applications.
Screen size/resolution
Minimum Requirement: 13 inches or min. 1024 x768
Preferred: 14 inches or better
Most software displays correctly on 13-inch monitors – a larger screen helps alleviate eye strain and can be easier to work with.
Wireless Network
Minimum Requirement: 802.11b/g/n
Preferred: 802.11ac
In order to facilitate watching videos at the best quality, speed, and without interruption, we recommend 802.11ac wireless.
Operating System
Minimum Requirement

Windows 10 (64 bit)
macOS 10.13 (High Sierra)

Preferred

Windows 10 (64 bit)
macOS 10.15 (Catalina)

We recommend that all Operating System Updates are performed when available. This will ensure that your device stays up to date with security patches, and will allow your device to perform at its peak potential 
USB, Bluetooth or Aux Headset
For use with online tools, such as Panopto, Webex. A headset will offer the best audio, and reduce any echo or feedback from the device speakers
As a minimum, your computer needs a speaker and a microphone for use with online collaborative tools
Webcam
Minimum Requirement: External
Preferred: Built-In
A Webcam is required for online collaborative tools – Online Meetings, Working groups, etc
Software
Operating Systems
Windows -10
Mac - 10.13.6 and higher 
Other operating systems may work with some services but may not be supported by ICT e.g. versions of Linux and Chrome OS
Must be able to run Microsoft Office 365
Anti-Virus Software
Windows - use Defender
Mac - use Sophos
Use built-in Firewalls that come with your operating system for security. They should already be turned on by default. 
Web Browsers
Google Chrome, Mozilla Firefox, Microsoft Edge and Safari (only from Supported Mac OS versions).
Internet Explorer is not supported.
Checking My Computer
Here's a quick way to check your current device.
For Windows based Computers
You can use the Settings application within Windows to check your hardware and software specifications by using these stpes: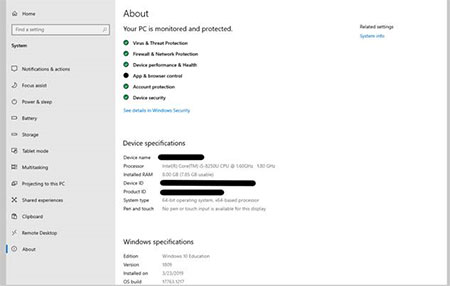 Click your Start Button (usually located in the bottom left corner of your screen)
Type in - About your PC
Hit Enter
Your Computer should now display your device information, including your computers name, processor type and speed, RAM specifications, as well as details around which version of Windows your device has installed.
For Mac Devices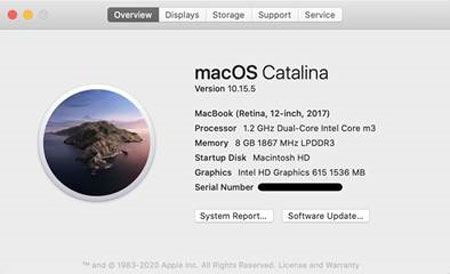 Click on the Apple logo in the top left corner of the screen
The "About" Screen will display your Mac devices information, including processor type and speed, RAM, and other details about your device.
Internet Connectivity
Students are responsible for all Internet Service Provider (ISP), phone, or any other communications service requirement.
High Speed Internet Packages
A basic Internet package of 10 Mbps (Megabits per second) download and 1 Mbps upload will allow you to connect to online courseware 
Higher speed packages, where available, are preferred, as they allow for a better experience in Online Meetings, Video downloads, and online collaboration tools
If you are sharing your Internet connection with multiple users, a higher connection rate is recommended – (100 Mbps+)
For Full HD video with Webex, an upload speed of 3.0 Mbps is recommended.  Webex (and other collaborative software) will downgrade your video quality based on the connection speed.
Wireless High Speed Internet Providers
Fixed Wireless Technology - please note that environmental concerns (rain, wind, snow) can impact the connection quality and speed of fully wireless (Microwave/Satellite) services.  We recommend, if possible, that a wired service be used where possible (Sasktel, Shaw, Access)
Satellite Internet
Satellite Internet, while still High Speed, has more latency than a fixed wireless service, which can cause challenges for online meetings and collaboration. Learn more regarding the challenges this may cause an end user.
LTE Mobile Data Plans
LTE Data may be more reliable and faster than Fixed Wireless or Satellite in some situations – this can include limited line of sight to a wireless tower, or poor/non-existent Fixed Wireless coverage based on your geographic location
LTE Internet is provided by a cellular carrier – Sasktel, Telus, Bell, or Rogers
Apple and Android Devices can be used as a Wireless Hotspot, enabling you to utilize your current wireless plan to connect
Secondary hardware (Rocketstick, or Mobile router) can also be purchased to provide stand-alone service
Generally speaking, LTE Mobile Data is capped by the providers at various data transfer sizes (15 GB, 20 GB, etc)
If using a mobile data plan, please be aware that you can incur extra cost if you go over your allotted amount of bandwidth in a month.
Assistive Technology
Students using assistive technology for remote learning may have a need for a system with greater capabilities. 
Remote Learning
Information on commonly used USask online tools and services for remote learning are available.
Need a Device?
Shop USask is offering a Tech Concierge advice service that can help you get everything set up just right by making product recommendations and assisting you with any problems. They also offer tech products at educational pricing.