What is FUSION?
The Future Skills Innovation Network (FUSION) is a national network of Canadian universities focused on exploring innovative and inclusive experiential learning approaches to foster skill development and prepare university students to join a rapidly evolving world of work. The FUSION project is part of the federally-funded Future Skills Centre (FSC) and is comprised of six partner institutions: University of Saskatchewan, Carleton University, Concordia University, Memorial University, Simon Fraser University, and University of Calgary.
Aiming to help universities prepare students for the future economy, FUSION is focused on achieving three main goals:
Improving postsecondary outcomes for students from underrepresented groups
Developing students' work-related skills through curricular and co-curricular activities
Creating more flexible formats for accessing learning
FUSION Skill-Development Curriculum
The FUSION Skill-Development Curriculum is an interactive and engaging online, self-study curriculum designed to wraparound and complement a student's existing experiential learning opportunity (e.g. internship, student leadership role, research project, part-time job, volunteer placement, or summer work term). The FUSION Skill-Development Curriculum focuses on helping students enhance their skills across six critical 21st century skill domains: 
Metacognition – the ability of the mind to plan, monitor and assess its own learning and performance.
Communication – the ability to construct and convey a message through an appropriate medium.
Problem solving – the ability to connect various analytical strategies to come up with creative solutions to manage difficult situations.
Collaboration - the ability to contribute and support others to achieve a common goal
Adaptability - the ability to achieve or adjust goals and behaviours when expected or unexpected change occurs, by planning, staying focused, persisting, and overcoming setbacks.
Inclusivity - a set of skills that help you perform better in different personal, learning, community, and work situations where you need to use your cognitive, affective, and behavioural skills. Inclusivity occurs when everyone within a team, group, organization, or collective feels involved, valued, respected, and that they are being treated fairly.
Using their experiential learning opportunity to apply their learning in real-time, students will learn to:
Identify and articulate personal learning strategies and strengths in learning and processing information
Identify how to adjust communication based on context, audience, purpose and medium
Analyze and deconstruct a simulated work problem using the stages of the problem-solving cycle
Benefits of Participation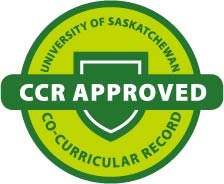 Students that participate in the FUSION Skill-Development Curriculum will have the opportunity to:
strengthen critical skills needed to adapt and succeed in the world of work
enjoy a richer and more meaningful experiential learning opportunity
receive acknowledgment on your CCR (if participating as part of a non-credit experience)
Wrapping the FUSION Skill-Development Curriculum around your course or learning experience can:
increase and enrich students' development of up to six critical skill areas
enrich students' course/program learning experience
make the experiential learning and/or skill-development learning outcomes of a course/program more explicit
facilitate and advance inclusive work-integrated learning initiatives
provide additional instructional support
View the USask FUSION Report 2020-21
View the FUSION One Pager 2021 Report
If you have an interest in offering FUSION in the classroom or as part of a non-academic program, please get in touch with Kim Matheson (kim.matheson@usask.ca). 
How to Participate
Please contact us if you are a student interested in participating in the FUSION Skill-Development Curriculum or a faculty, instructor or program leader interested in wrapping the curriculum around your course or learning experience. 
USask Career Services
and offers you the opportunity to participate in a unique and FREE 4-week online learning program. The program is designed to deepen your skill development and help improve your employment outcomes.
The FUSION + Job Seeker program comprises:
The FUSION Skill Development Curriculum - a 10-hour, self-directed, online learning experience designed to enhance skill development in three critical 21st century skill domains:

communication

,

problem solving

, and

metacognition

.
Virtual Workshops on the Job Search Process - topics include Resumes and cover letters, interviewing, LinkedIn and networking.
The FUSION + Job Seeker program is aimed at current students and students who have just finished their program (but not yet convocated): 
without work and actively engaged in the job search process; OR  
currently underemployed (i.e., do not have enough paid work OR are not doing work that makes full use of their skills and abilities as university graduates), OR
looking to improve their overall job search effectiveness. 
Program Dates: (Check back for new program dates, or contact Career Services)
Contact
If you have any questions about FUSION or would like to learn more, please contact Tenneisha Nelson,
t.nelson@usask.ca
)
.