Programs and services
Safewalk
USSU Safewalk
Safewalk volunteers walk people safely to their destination on or near campus from Sunday to Thursday, 8:30 to 11:30 pm. Outside of these hours, Protective Services provides walking escorts. This service is free and available to students, staff, faculty and campus visitors. 
Virtual Safewalk
Using the USAFE app, send your location in real-time to a friend so they can watch you as you walk to your destination. If necessary, they can trigger a call to emergency services. 
Protective Services
Peace officers within Protective Services are highly trained individuals who assist the campus community through educational programs, emergency response, crime prevention and community policing. Protective Services is open every day, all day.
Discrimination and harassment prevention
The University of Saskatchewan is committed to creating and maintaining a positive environment for working and learning that is free of discrimination and harassment.
The Discrimination and Harassment Prevention Policy applies to all members of the university community including individuals employed directly or indirectly at the university, students, volunteers and visitors.
USafe app
Download now!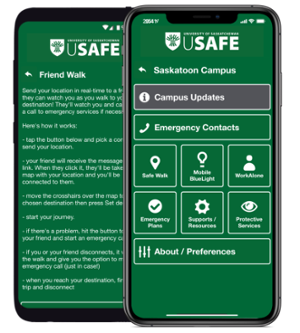 USafe offers a variety of tools and information to help you stay safe at USask. In addition to sending out safety alerts, USafe features emergency contact information, safety tips, safe-walking options and working-alone check-ins.
Sexual violence
Educate yourself
Educate yourself in order to increase your safety against sexual violence and reduce your risk of committing a sexual violence.
If you have experienced sexual violence, plesae tell someone.