On-campus Housing
Residence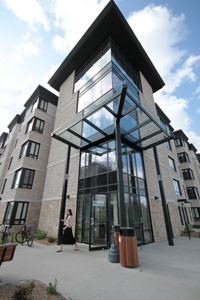 Students living in residence receive continuous support, both personal and academic, and appreciate the comfort, security and convenience of living close to classes and university facilities
Live on campus in one of many styles of accommodation. Options available for families, graduate students, and students with disabilities.
Child Care
USSU Childcare Centre
221 Cumberland Avenue North
Saskatoon, Sk S7N 1M3
williams@ussuchildcarecentre.ca
The USSU Childcare Centre - Williams Location is licensed and has room for 66 children aged six months to six years.
USSU Childcare Centre - McEown Location
109 Cumberland Avenue South
Saskatoon, Sk S7N 2Z7
mceown@ussuchildcarecentre.ca
The USSU Childcare Centre - McEown Location has 90 spaces for children from infants to kindergarten.
Campus Daycare
Room 1201, Education Building
306-966-7807
campus.daycare@usask.ca
The Campus Daycare is licensed and provides care for the children of U of S students, staff and faculty. The facilitiy has room for 44 children between 30 and 60 months (two and a half to six years old).
Off-campus facilities
Search for licenced child care (daycare) providers by location using the Government of Saskatchewan's searchable map.
Parent Resources
Day-to-day life on campus can often be stressful enough whether it's due to midterms, assignments, and challenging labs as a student or due to deadlines and grading as staff. If on top of it all, you also have one or more children at home or one on the way, things can be even more hectic. Here are some resources available to you at the U of S that may help ease some stress as a student/staff/faculty member on campus:  
The Comfort Room
located in the Thorvaldson Building, Rm 127.
Anytime
The Comfort Room is a new addition to student and staff family resources. The first of its kind on a Canadian campus, it is designed as a safe space for parents who might need a quiet place to breastfeed, pump, or take a few minutes away from busy campus life. The access code can be obtained by emailing campus.parents@usask.ca with your name, department, and phone number. 
The Parents on Campus Group
Convenient Breastfeeding Locations